The Walt Disney Studios Park is the second park in the Disneyland Paris resort, it's themed to the movies and Hollywood. It's said to be a sister-park of Disney's Hollywood Studios.
[[Rock 'n' Roller Coaster starring Aerosmith|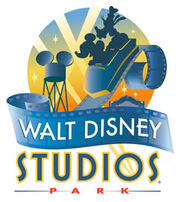 ]]
The park opened in 2002, as the second park at Disneyland Paris (the first one being the Disneyland Park). It opened with only a few attractions, and is still being critisized by it's size, it's still the smallest Disney Park on Earth.
The park starts with the Front Lot, it contains the huge studio 1, which is the entrance to the rest of the park. After studio 1, you'll be able to get to all the other lots.
Lots/Studios (themed lands)  *Front Lot
Production Courtyard
Backlot
Toon Studio (is also home to Toy Story Playland)
AttractionsEdit
Flying Carpets over Agrabah
Slinky Dog Zigzag spin
Toy Soldiers Parachute Drop
Stitch Live!
Armageddon - Les effects speciaux
Moteurs... Action! Stunt Show Spectacular
Ad blocker interference detected!
Wikia is a free-to-use site that makes money from advertising. We have a modified experience for viewers using ad blockers

Wikia is not accessible if you've made further modifications. Remove the custom ad blocker rule(s) and the page will load as expected.